the history of our local area
Some sections of this website make use of Adobe Flash objects, your browser doesn't allow these objects
to run, you can download the needed adobe flash component for your browser type, from this
link
for free.
---
Paypal Donations

Donations are appreciated, and help with the costs of keeping the website online and free
Links to Local Book Lists
Content & Copyright
Most all items in the gallery are scanned from items owned by Steven Dowd, a few items in the gallery have been scanned from photos or postcards owned by others, and are shown here with their permission
The content and Images within this website, unless otherwise noted, are the copyright of Steven Dowd ©2001-2009.
| | | |
| --- | --- | --- |
| Some Earlestown Sporting History | | |
Written by Steven Dowd
This is an instalment from the diary of Earlestowns Mr Harold Thorn, recalling sporting highlights of the past.

EARLESTOWN ASSOCIATION Football Club. Like the Viaduct Cricket Club, the famous Earlestown AFC must have been formed nearly a century ago.

My father, a supporter in the 1880s often spoke to me about the team in those early days.

The playing field was at the back of the Swan Hotel, on Newton Common. He was present on this ground when the famous Preston North End Invincibles played Earlestown and beat the local team 19-0.

I understand the record score for the Noah End was beating Hyde 26-0.!

Earlestown also played Everton in the 1880s can you imagine it? A team from Earlestown playing against Everton in a cup final. Well, that is just what Earlestown did and it is worth noting that Earlestown had a good deal to do with the early progress of the now world famous Mersey club.

For the first trophy, Everton ever won was the Liverpool Cup, and in the final of the season 1883-4 they beat Earlestown 1-0. Evertons victory over Earlestown was a great stimulus to them for it gave them ambitions which resulted in their leaving their ground at Priory Road and going to Anfield.

In the following year, Earlestown got their revenge and won the cup back with a 1-0 victory. There was an ?80 gate at this Everton-Earlestown match which is somethlng for the present day Earlestown people to ponder over.

Earlestown who reached the final of the Liverpool Cup in three successive years were the final team to play Everton at Anfield, which is now the home of Liverpool. My father was present at these matches.

What was thought to be the last remaining picture of the allconquering Earlestown Football team, who trounced Everton almost a century ago, was later found in a dust cart. The picture shows the local team minutes after winning the Liverpool and District Challenge Cup in the season 1884-5.

The man who found the valuable picture was Mr Lester Skeech of Tully Avenue, whose brother Gordon was a player for Shrewsbury for nine years.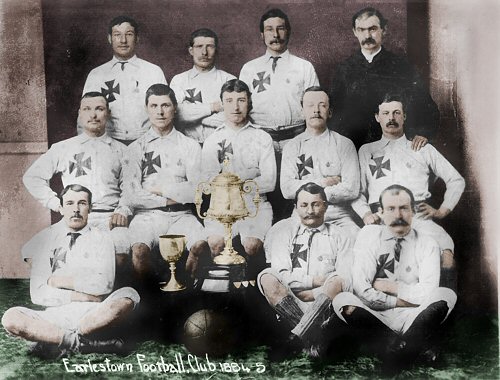 The photograph showes the Maltese Cross worn on the right side of the shin and featured J. Green, J. Appleton, A. Dagnall, R. Green, P. Hastie, J. Whalley, J. Ellison, J. Duxbury, R. Bowker, W. Rich, J. Sims, J. Ogden.

Earlestowns next ground was at the Mesnes where they played for many seasons until they disbanded.

Boys, admission was one or two pence collected by a committee man at the boys entrance. The railway embankment was at the back of one of the goals, and the turf was always in good condition and soon dried after heavy rain.

Over the years, the clubs headquarters were at the Griffin, Wellington and Railway Hotel.

Here the home team and visitors stripped, entered a horse drawn, wagonette at the Mesnes entrance in Wargrave Road and walked down the Mesnes to the ground. Some years later a stand was erected on the Wargrave Road side of the ground (built by J. Horridge, who was a long-standing committee man of the club) and this had all the facilities for dressing and accommodation for the referees and linesmen.

When the local derby with Ashton or any other important match took place, the Viaduct Band played down Earle Street, Queen Street, and Wargrave Road to the Mesnes entrance.

I began following Earlestown when a schoolboy and my recollections of the local players are: Andy , Limmond, George Houghton, Tom Chew, Fred Valentine, Fred Lilly, Jack Broster, Aaron Ellis, Dick Parkin, David Edgar, S. McMinn, T. Fletcher.

Earlestown had the satisfaction of topping the Lancashire Combination second division and were promoted.

Division one was comprised of the reserve teams of Everton Liverpool, Manchester City and United, Burnley, Bolton Wanderers, Blackburn Rovers, Bury, Preston North End, Blackpool, Stockport County, Oldham Athletic, and other clubs including Ashton, Southport Central, St Helens Recs, Stalybridge Rovers, Earlestowns first home game in the 1902 season was against Everton Reserves whom they beat 2-1.

The next home game was against Bury Reserves and again Earlestown won 2-0. This was s great victory for Earlestown as Bury had recently won the English Cup, beating Aston Villa at Liverpool 3-0 in the semi-final and beating Derby County 6-0 in the final at Crystal Palace, the ground where all the cup finals were played.

Bury went through every round without having a goal scored against them. Against Earlestown they played four of the team which won the English Cup, Montgomery, Lindsay, Sager and Plant.

On New Years Day in 1908, Liverpool played Earlestown on the Mesnes and beat them 5-1. Charley Wilson played halfback in this match along with internationals Doig, Raisbeck, Parry for Liverpool.

St Helens Recs opened a new ground at North Road, St Helens. It was during a General Election and Seton Karr the prospective candidate for St Helens opened the ground and kicked off at the match.

The match was against Earlestown in an English Cup tie and Earlestown won 5-1. The Recs team was Roughley, Burden, Clegg, Martin, Hunter, Patten, Neve, Dagnall, Clarke, Kerns. Shortly after this game the Recs transferred three of their players (Roughley, Neve and Martin) to Hull City in the second division of the Football League.

One of the greatest games at Earlestown was against Barnsley in the then last qualifying round of the English Cup.

Barnsley were in the second division and they stayed overnight at the Railway Hotel. A crowd of about 7,000 assembled on the Mesnes. Barnsley won 2-0 and it was a great disappointment for Earlestown. Had they won they would have played Liverpool at Anfield in the first round proper of the English Cup. In the Barnsley team were Lillycrop, Glendenning and George Wall. Shortly afterwards Lillycrop and Glendenning were transferred to Bolton Wanderers. George Wall went to Manchester United and became one of the finest wingers of his time and was capped for England on several occasions.

Earlestown later won the Lancashire Junior Cup beating Lancaster in a thrilling final. The match was played on Blackpools ground and ended in a scoreless draw and the replay took place at Preston North Ends ground on Christmas Day in 1907. Earlestown won 1-0 with Aaron Ellis scoring the goal. On both occasions a special train from Earlestown was booked for the spectators.

Whenever Earlestown played St Helens Recs, St Helens Town, Southport Central or Port Sunlight there was always a special train engaged.

For a season or two, Earlestown played two ex-internationals in their forward line, Tom Bartley (Wales) and Andy Gara (from Ashton).

The scouts were always at Earlestown and Bolton snapped up Sam Bowyer after he scored six against St Helens Town in a 10-1 trouncing. France and Cunliffe transferred to Blackburn Rovers and became their regular wingers.

One Saturday I went to Anfield to see Liverpool v Bury and two ex-Earlestown men were playing - Dick Parking for Bury and Sam Bowyer for Liverpool.

Earlestown sadly disbanded through lack of support and one of the chief reasons was that the railway company advertised cheap tickets to Liverpool, Manchester and Bolton every Saturday. This attracted supporters to the larger clubs.

Earlestown AFC was very fortunate for many years in having Arthur Parks as secretary, Ben Ashcroft as treasurer and J. Powell and J. Bentham as trainers. They were backed up by a good working committee.

It was a great pity when such an old club finished.

My writing of the club would not be complete without mentioning the name of Tom Bartley who played for Earlestown for years until they finished. He was born at Llandudno and played for Glossop North End in the English League second division. In 1895 he played for Wales against England, the famous Billy Meredith being in the same forward line.

Tom Bartley was a great footballer and known throughout Lancashire. He had splendid ball control, was a fine header, and unique in his corner kicks. Taking a corner, he placed the ball under the cross bar from which many a goal was scored. A great utility player, whenever a player was hurt during a match, Tom Bartley was the man to take over the position. I have seen him play in every position on the field including some wonderful exhibitions of goal-keeping. A private in the Welsh Fusiliers (his name is on the South African War Memorial) I saw him play for Earlestown on the Saturday during his embarkation leave and during the interval a collection was made on his behalf. He was a good singer and with Earlestowns trainer jack Powell, they often sang at socials and concerts. He worked at the Viaduct until his retirement and for many years was on the committee of the. Earlestown Viaduct Athletic Club. He died on December 24, 1951, aged 77.

Text mostly taken with permissions granted for use, from the Warrington Guardian, printed by them 21st Sept, 1979