the history of our local area
Some sections of this website make use of Adobe Flash objects, your browser doesn't allow these objects
to run, you can download the needed adobe flash component for your browser type, from this
link
for free.
---
Paypal Donations

Donations are appreciated, and help with the costs of keeping the website online and free
Links to Local Book Lists
Content & Copyright
Most all items in the gallery are scanned from items owned by Steven Dowd, a few items in the gallery have been scanned from photos or postcards owned by others, and are shown here with their permission
The content and Images within this website, unless otherwise noted, are the copyright of Steven Dowd ©2001-2009.
| | | |
| --- | --- | --- |
| Castle Hill (mound) | | |
Written by Steven Dowd
Took a slow stroll round to Castle Hill today. Improvements to the footpaths around castle hill have made access lots easier, do not need to wade through half as much mud n water to get there now. On arrival found some interesting details on the new noticeboard, and have copied the details below for your interest.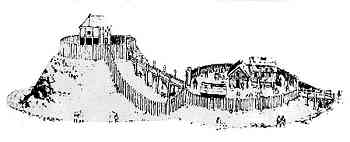 Click the read More link below for the details.



In 1843 a group of local gentlemen, led by the Rev. Edmund Sibson employed local miners to excavate shafts into the mound to find out more about this mysterious feature

On finding a curved feature and artifacts such as a whetstone (used for sharpening tools), pottery and an acorn, the Rev. Sibson concluded that the mound was a prehistoric burial mound.
Unfortunatly, modern investigations suggest that these conclusions exceeded the evidence, possibly reflecting a lack of archaeolgical sophistication compared with modern day methods.
The Rev. Sibsons prehistoric chamber was probably formed through use of a timber framework during construction of the mound.

No exact date can be found for construction of the castle but its likely to be between 1050 and 1300 AD, a period where several such sites were established as the head of
administrative areas known as the Hundreds, and at a time when disputes between Barons was common.

Abandonment of the site would probably have taken place before 1341 AD when Robert de Langton obtained a license to fortify his manor house at Newton, probably on the site of the nearby Newton Hall, demolished as recently as 1964.